Fruit Bump
1.3.5.3
Match-3 Puzzle Game – Enjoy Matching Fruits
If you like playing games like Candy Crush Saga and Farm Heroes Saga then this match-3 puzzle game would soon become a favorite of yours. Fruit Bump is a fun game in which you have to score points by matching 3 or more same fruits and removing them from the board. It requires you to swipe the position of the fruits to make pairs of 3 or more same fruits. Each match you make awards you a certain number of points. You have to continue making matches until you reach the target score set in front of you. While matching the fruits, you will come across walls, blocks, and even ice cubes. They will hinder your progress and make it difficult for you to achieve the target within the given number of moves.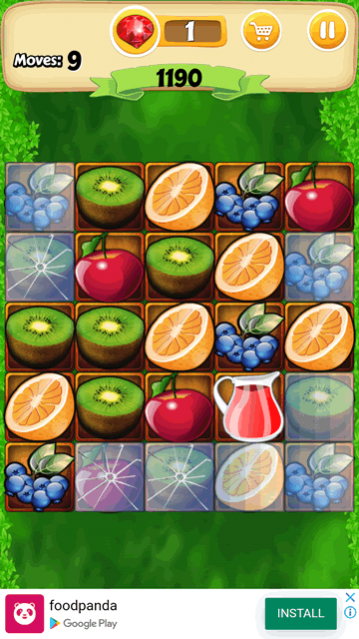 Fruit Bump has slick gameplay and gorgeous graphics. The fruits you see in the game look fresh and tempting. You almost have the urge to take them out of the phone and eat them. Aside from the stunning visuals, everything is almost the same as it is in other match-3 puzzles games. For instance, the controls are the same as they are in Candy Crush Saga. You have to swipe the fruits to change their position and match them with other fruits. The position of the fruits can only be changed if there is a potential match available. This matching can take place both horizontally and vertically. Once a match is made, the fruits that were matched disappear from the board and are replaced by new fruits.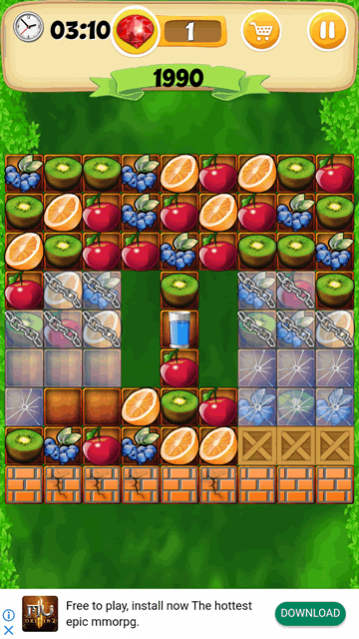 This match-3 puzzle game offers three different environments for you to play in. These environments are Green Forest, Ghost Town, and Blue Ocean. However, two of them are locked at the start of the game. You can't unlock them until you have finished all the levels of the Green Forest first. Each environment offers a diverse range of levels to you. There is a different objective set in front of you for each level. In some levels, you are just asked to score a particular number of points. Other levels, might require you to remove blocks placed on the board or shatter glass encasing the fruits. In most levels, there is a limited number of moves provided to you in which you have to achieve your target. However, for some levels, the moves are replaced by a timer.
Fruit Bump lets you create special items for matching 4 or more same fruits. These special items consist of a glass of juice, a jug of juice, and a ruby. You can get a glass of juice by matching 4 same fruits either in a horizontal or a vertical line. When matched with the same fruits again, this glass of juice can clear an entire column or row. By matching 5 same fruits in an 'L' shape, you can earn a jug of juice. This jug can be matched with the same fruits again to create an explosion. You can combine two jugs to create an even bigger explosion. The ruby can be earned by matching 5 same fruits either vertically or horizontally. Rubies can be combined to clear the entire board.
Features:
Lots of fun-filled levels
Different objectives for each level
Match 3 or more same fruits to score points
Complete a level by reaching the target score
A limited number of moves on offer
Time limit applied on certain levels
Match 4 same fruits to get special juice
Get a ruby for matching 5 same fruits
Match 5 fruits in 'L' shape to get a jug
Combine two jugs to create explosions
Clear the entire board by combining two rubies
Various obstacles to tackle when matching fruits
Conclusion:
Fruit Bump is a gaming app that is designed for people who love playing match-3 games. It challenges them to match fruits in pairs of three and score a set number of points within the given number of moves. It is an addictive match-3 puzzle game and will get you hooked the minute you start playing it.
---
Add a review
Tell us your experience with
Fruit Bump
1.3.5.3
RELATED PROGRAMS
Our Recommendations
---
---
---
---